February 27, 2019 By King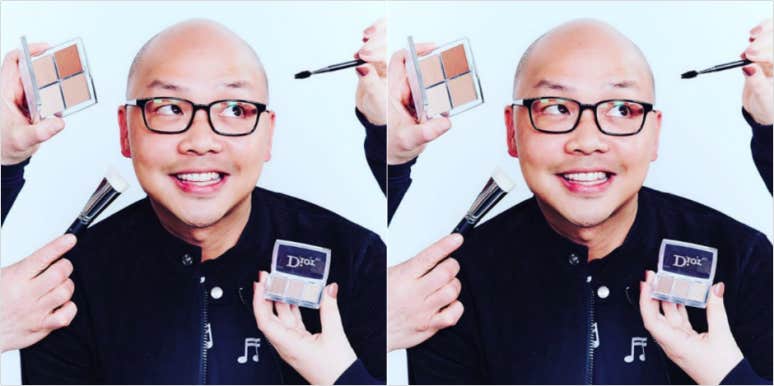 He did her makeup for her wedding day.
Tabloids, news stations, and fans can't seem to get enough of Meghan Markle, Prince Harry, and their little one on the way. For a long time, people were raving about how gorgeous Markle looked on her wedding day — her dress, her hair, her makeup were all on point. And when it comes to her makeup, you have one person to thank for that: Daniel Martin.
But who is Daniel Martin? Not only is he a makeup artist, but he's also the Brand Ambassador to Dior and the Creative Color Consultant for Honest Beauty. And if you had any doubt of his talent, you are seriously mistaken.
It turns out that Martin and Markle have been friends for almost 10 years! In an interview with Fashionista, he revealed his reaction to being asked to do her wedding makeup, saying, "It was exciting to have been asked because I wasn't expecting it, and to also be asked to attend was a whole other thing. It's a blur. It definitely brought my visibility up and it's been really weird, but at the end of the day, we're still great friends. Her profile's on a much more global level, but — it's weird to say — it's still kind of the same."
It's great to know that their relationship hasn't changed much since she became the Duchess of Sussex. But he wasn't always so successful.
Martin always had an interest in beauty and got his start in makeup and styling working at a MAC counter at Nordstrom in the 1990s. That set his passion in motion and he moved to the East Coast to pursue his career in makeup.
He soon got a job at an Aveda concept salon in Virginia, doing hair and makeup, and ended up working backstage at New York Fashion Week. While working backstage, he met Pat McGrath, a self-made and influential makeup artist from Britain. He began assisting her team.
According to Martin, "That's such a coveted opportunity to get at such a young age. I was definitely low on the totem pole. I just really lucked out. Even to this day, I wonder if she knows who I am. At that point, I was like, I'm just fortunate to even be on her radar. I was also freelancing, living paycheck-to-paycheck, and doing the struggle like everybody else."
In 2004, Martin began working on his own and attributed networking to his success. He also credits Kerry Diamond, the former beauty director at Harper's Bazaar, as helping him. He eventually met Chloë Sevigny, and that connection turned into a snowball effect.
["source=yourtango"]